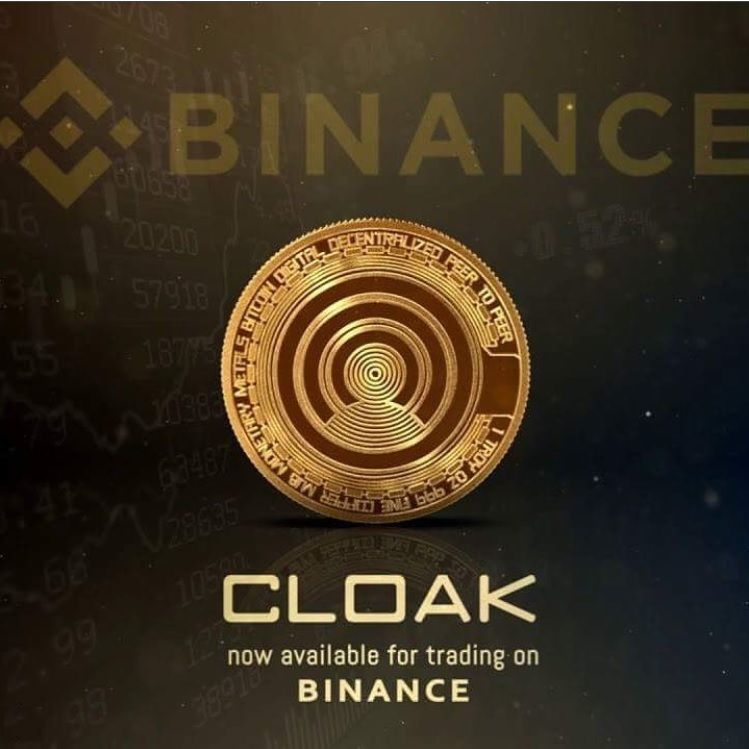 Binance Lists CloakCoin (CRYPTO:CLOAK)
Sydney, April 19, 2018 AEST (ABN Newswire) - Cryptocurrency Exchange Binance.com (

CRYPTO:BNB
) advise that CLOAK/BTC (

CRYPTO:CLOAK
) and CLOAK/ETH trading pairs are now available on Binance for trading. You can start depositing and trading CLOAK now.
CloakCoin was designed to facilitate private, secure, decentralized & untraceable transfers with CloakCoin-ENIGMA. CloakCoin was one of the first digital currency concepts in the crypto market to address this inadequacy, and was introduced in 2014 with the aim of enabling people to use a coin that would provide total privacy, in a world that is more and more encroaching on the freedom of its population, stating real and perceived threats to national security as a reason to 'protect' its citizens. CloakCoin is based on the revolutionary 'Blockchain' concept but has added some very simple and clever layers of communication and a sophisticated off--blockchain coin mixing system making it impossible for 3rd parties to trace transactions between CloakCoin wallets. Today CloakCoin is one of the best systems available providing private, secure, decentralized and untraceable digital monetary transactions.
Max Supply: 5,121,923 CLOAK
Circulating Supply: 5,121,923 CLOAK
Issue Price: $ 0.1800
To view the Whitepaper, please visit:
http://abnnewswire.net/lnk/621K8056
About Binance

Binance (CRYPTO:BNB) is a cryptocurrency exchange with a focus on the Chinese market and other Chinese coins. Currently, it supports English and Chinese users. The Binance token (BNB) was created during the ICO event to fund the development of the Binance exchange.
Binance is capable of processing 1.4 mil orders/second, has multi-language support and has all the major coins available – BTC, ETH, LTC, BNB etc. Trading fee is 0.1%.
Binance Mission: Commit to offer the professional, secure and transparent one-stop service to users in digital currency industry.
Binance Scale: Binance has over millions registered users from over 200 countries and regions.
Binance official website:
http://www.binance.com
About CloakCoin

CloakCoin (CRYPTO:CLOAK) is a cryptocurrency designed to facilitate private, secure and untraceable decentralized transfers with Enigma.
Cloak is a dual PoW/PoS (Proof of Work, Proof of Stake) coin, which is now in the Proof-of-Stake (interest bearing) stage.
Enigma is CloakCoin's private, secure and untraceable payment system, that forms the basis of future development and provides the underlying transaction system for the decentralized applications running on the CloakCoin network.
CloakCoin
E: info@cloakcoin.com
WWW: www.cloakcoin.com

Binance
E: market@binance.com
WWW: www.binance.com
Related CompaniesCloakCoin



Binance