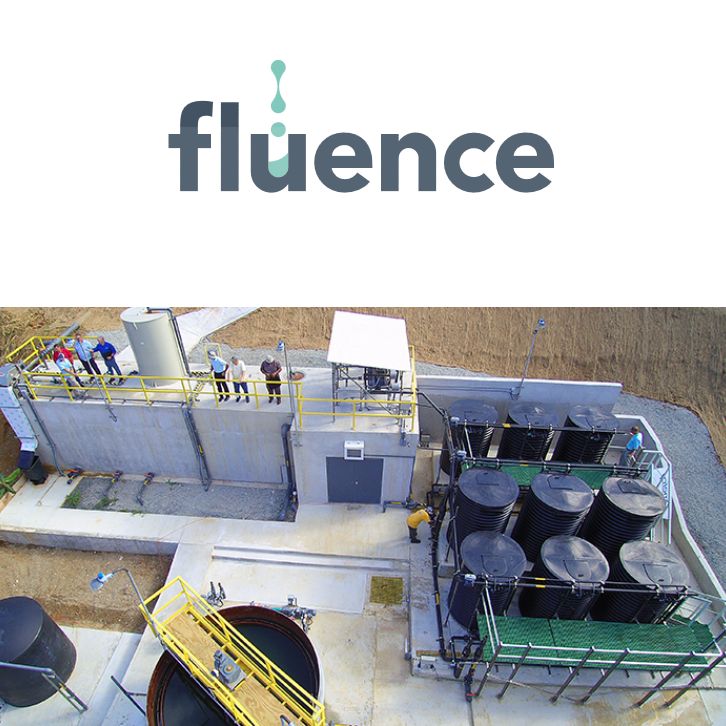 Appendix 4C - Quarterly Q3 and Commentary
Melbourne, Oct 31, 2017 AEST (ABN Newswire) - Fluence Corporation Limited (

ASX:FLC
) (

OTCMKTS:EMFGF
) ("Fluence" or the "Company"), a global leader in fast-to-deploy decentralized water, wastewater, and wastewater-toenergy treatment solutions, is pleased to release its Quarterly Report and Cash Flow Report for the period ending 30 September 2017.
September quarter 2017 highlights:
- Strong business momentum: Record sales levels expected for 2017 with new bookings and pipeline growth across all sectors and target geographies anticipated to support revenue growth and expanding margins across key product lines in 2018 and beyond, towards being EBITDA profitable in 2019.
- China MABR advancing from pilot stage to deployment - commercial contracts for smart packaged MABR plants with multiple partners in advanced stages of negotiation and anticipated to close before year-end with rapid commissioning thereafter. Each MABR commercial deployment is anticipated to lead to further significant orders in 2018 and beyond. China factory is producing MABR modules and smart packaged MABR units.
- Mainland US Deployment: Contract signed to deploy an MABR demo plant at Stanford University to provide local validation in this key US geography. The plant is scheduled to be shipped on November 10th from Israel.
- Integration: Team integration complete with significant cross-selling opportunities being realized between locations.
- New Orders and Leveraging: Successfully winning orders in new geographies and leveraging success in one territory across multiple additional new regions. For example: the US EPA approval of the US Virgin Islands MABR, has been leveraged in China commercial contract negotiations and the Stanford agreement; Nirobox success in South Africa has been leveraged into opportunities in the global US$2.7B water purification market including a contact win from VINCI for an Indian Ocean island; and wastewater-to-energy sector dominance in Italy has been leveraged into opportunities in the global food and beverage market expected to grow to US$6.1B (see Note 1 below) by 2020, including six new project wins in Ecuador, Brazil and Argentina and further well-advanced opportunities.
- SUBRE Commercialization: SUBRE successfully advanced from pilot stage to commercialization - first commercial SUBRE contract in Israel will enable the Company to enter the multibillion-dollar wastewater plant upgrade market in 2018. This has successfully proven the continued ability to deliver innovation into new markets with truly disruptive technology and corresponding higher gross margins.
- Revenue Recognition: As timing of actual contract deployment cannot always be predicted with certainty, there is the possibility that revenue recognition on several existing signed contracts may shift into early 2018. In particular, due to local factors beyond the Company's control, the financial close and disbursement on the executed contract for the large 30-year San Quintin Mexico BOT project may not occur until early 2018. As a result, recognition of the initial US$14M of revenues, which were included in our July revenue estimate may shift into early 2018. Importantly however, all revenue associated with any of these signed contracts is anticipated to be realized in full.
- Investment by Top US-based Fund: During the quarter, the Company was very pleased to welcome one of the world's largest funds to its register, a top-tier US-based fund with over one trillion US dollars under management.
- Cash on Hand: Cash as at 30 September of US$45.1M leaves the Company fully funded to achieve EBITDA profitability in 2019.
Henry Charrabe, Managing Director and CEO of Fluence commented:
"We are very pleased with our progress in the third quarter including significant bookings and a growing pipeline across all product lines and geographies. We have won many new contracts and are deploying solutions globally. Critically, the integration of personnel, as well as financial and management reporting following the merger is essentially complete and the team is working very cohesively and effectively. We anticipate continued strong performance in terms of bookings and revenue in the December 2017 quarter, keeping Fluence on the path and with sufficient cash to achieve EBITDA profitability in 2019.
The Fluence portfolio of innovative Smart Packaged Plants, global reference customer base, global manufacturing and regional market segment leadership serve as the backbone for winning strategic contracts in globally diverse regions in clean water supply and energy efficient wastewater solutions. We continue to believe we are the only global player with a full suite of solutions focused on decentralized treatment, a market estimated to grow to US$22B by 2021 (see Note 2 below). We're targeting a leadership position in this large market.
The breadth and depth of the global water problems are becoming increasingly apparent as evidenced by more frequent urgent responses by industry and governments. This may also be the product of increasingly tighter environmental and regulatory controls in many jurisdictions. These circumstances provide an enormous opportunity for Fluence in several product areas and markets over the coming years."
Note:
1. Source: Global Water Intelligence, Global Water Market 2017 Volume 1
2. Sources: MarketandMarkets Analysis, Global Water Intelligence, company estimates
To view the full report, please visit:
http://abnnewswire.net/lnk/1B8P6044
About Fluence Corporation Ltd

Fluence Corporation (ASX:FLC) (OTCMKTS:EMFGF) has experience operating in over 70 countries worldwide and employs more than 300 highly trained water professionals around the globe. The Company provides local, sustainable treatment and reuse solutions, while empowering businesses and communities worldwide to make the most of their water resources.
Fluence offers an integrated range of services across the complete water cycle, from early stage evaluation, through design and delivery to ongoing support and optimization of water related assets. With established operations in North America, South America, the Middle East and Europe, Fluence is also expanding into China's rural wastewater treatment market.
Global consultancy Frost and Sullivan recently awarded Fluence Corporation "2018 Global Decentralized Water and Wastewater Treatment Company of the Year", noting in their award dissertation:
"While typical decentralized water treatment systems are relatively expensive, complicated, and inefficient, Fluence Corporation leverages innovative and smart technology solutions backed by decades of industrial know-how to excel in water and wastewater treatment solutions. Fluence's excellence becomes apparent through its success, as the company continues to expand its existing offerings as well as partnerships with other prominent companies in the industry. With its easy to use, sustainable, smart and cost-effective solutions as well as a remarkable year of growth, innovation, and leadership, Fluence Corporation earns Frost & Sullivan's 2018 Global Company of the Year Award in the decentralized water and wastewater treatment industry."
Further information can be found at http://www.fluencecorp.com/
Fluence Corporation Limited

USA
Henry Charrabe
Managing Director & CEO
Email: hcharrabe@fluencecorp.com
US: +1-212-572-3766

USA
Richard Irving
Executive Chairman
Email: rirving@fluencecorp.com
US: +1-408-382-9790

USA
Gary Dvorchak, CFA
Managing Director
The Blueshirt Group
Email: gary@blueshirtgroup.com
US: +1-323-240-5796 or
China: +86-138-1079-1480

Australia
Ross Kennedy
Company Secretary & Advisor to the Board
Email: rkennedy@fluencecorp.com
Australia: +61-409-524-442

Australia
Simon Hinsley, Director
NWR Communications
Email: simon@nwrcommunications.com.au
Australia: +61-401-809-653
Related CompaniesFluence Corporation Ltd